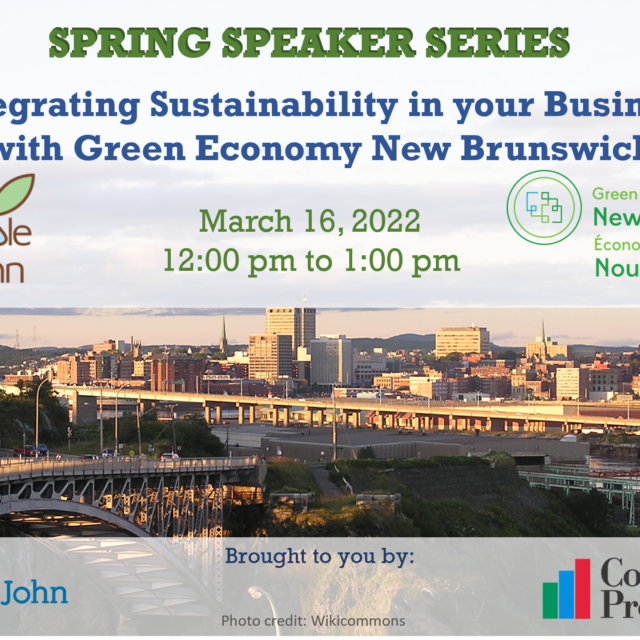 Watch Now!
SSJ Spring Speaker Series: Integrating Sustainability into your Business – With Green Economy NB
March 16, 2022 12:00 pm
We are kicking off the Spring Speaker Series with a presentation from Green Economy New Brunswick (GENB). GENB is a bilingual, non-profit Hub working with businesses of all sectors and sizes to take action on climate change and build sustainability into their operations. They provide training, resources, and 1:1 support to help businesses measure their carbon footprint, set reduction targets, and develop and implement action plans to achieve their goals.
During this webinar, GENB will share with you how integrating sustainability into your operations can help your business:
Improve your bottom line,
Mitigate business risks,
Raise your profile, and
Improve your ability to attract and retain consumers and top-tier employees.
They'll also discuss the support they provide to businesses across the province, and how you can get involved.
Green Economy New Brunswick is proud to be part of a national network led by Green Economy Canada, which supports 8 other Green Economy Hubs across the country.
Introducing our speaker, Ashley Anthony, Members Engagement Specialist.
Ashley is a journalist originally from Toronto and has traveled across the country working with Indigenous non-profit radio communications organizations. Her passion for environmentalism has driven her to work at creating change on a municipal and business level. She works with both individuals and businesses to assess what actions we can take now to make a brighter future.
Watch Now!