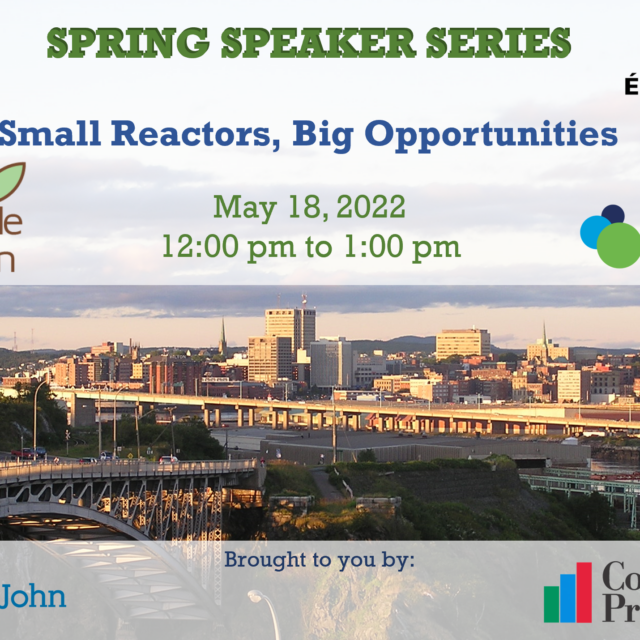 Watch Now!
SSJ Spring Speaker Series: Small Reactors, Big Opportunities
May 18, 2022 12:00 am
Join us on May 18, 2022, To learn about advanced Small Nuclear Reactors with NB Power, Moltex Energy, and ARC Canada!
In 2018, the province of New Brunswick entered into agreements with two complimentary advanced Small Modular Reactor (aSMR) companies, ARC Clean Energy Canada (ARC Canada) and Moltex Energy, to further the development of domestic clean energy production within the province. These nuclear technology designs are vastly different from the conventional reactors that currently exist. This session will feature representatives from NB Power, Moltex Energy, and ARC Canada who will speak about technology designs, timelines, environmental benefits, and economic opportunities.
AND Introducing our speakers:
Erin Polka is the Vice President of Communications at Moltex. She brings nearly two decades of marketing, communications, and media management experience to Moltex. Prior to joining the company, Erin was Director of Communications at the Canadian Nuclear Association, where she led a comprehensive communications strategy, increasing the association's visibility and impact. Erin has a BA in Communication Studies from Concordia University and a Certificate in Digital Analytics from the University of British Columbia. She sits on the Atlantica Centre for Energy board, and previously sat on the boards of the Maritimes Energy Association and Women in Nuclear Canada.
Fawn Zeuchner joined ARC Canada in 2019 as the Program Manager, where she oversees the organizations Management System, directs, and monitors business activities relating to interactions with various industry and local organizations, and leads numerous engagement and outreach activities to grow knowledge and support for the nuclear industry. Fawn has been an active member of the Sustainable SJ board since 2019 and has recently joined Women in Renewable Energy where she is now the co-lead of the New Brunswick chapter. With an Environmental Science degree and a passion for mitigating climate change, Fawn is excited to be pursuing a career in the green energy sector.
Claire Harris is the Manager of Environment and Engagement for the Advanced Modular Reactor Team at the Point Lepreau Generating Station. Claire has been with NB Power for over 30 years and has been a part of many innovative projects over the years including Belledune Generating Station, Dalhousie Orimulsion Upgrades, Coleson Cove Refurbishment, and Point Lepreau Refurbishment Projects. Claire graduated from Power Engineering Technology and then completed a Bachelor's Degree in General Studies (Arts and Science) with a focus on Environmental Assessment. Claire is passionate about climate change and believes we all have a voice and together we can make a difference.
Watch Now!