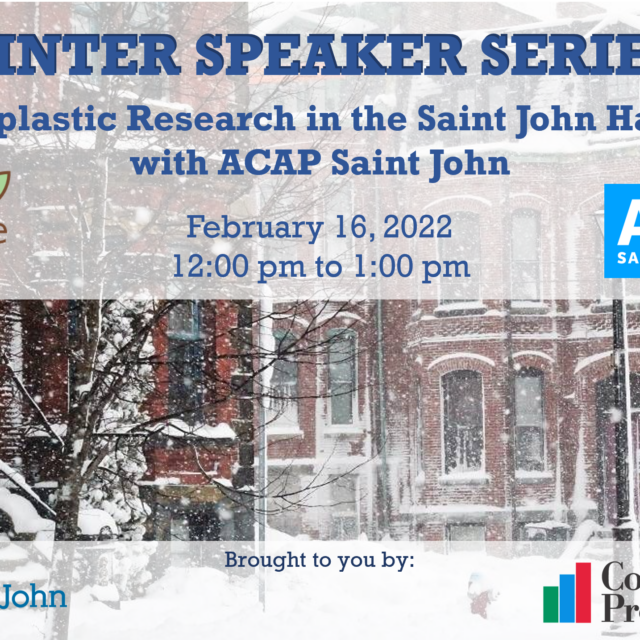 Watch Now!
Winter Speaker Series: Microplastic Research in the Saint John Harbour – ACAP Saint John
February 16, 2022 12:00 pm
Welcome to Sustainable Saint John's 2022 Winter Speaker Series! Join us this February with speakers Roxanne MacKinnon and Shauna Sands from ACAP Saint John here to discuss their microplastic research. Their presentation will include a brief overview of the organization, information on microplastics, and current research being conducted right here in the Saint John Harbour. 
Roxanne MacKinnon is the Executive Director of ACAP Saint John and oversees an amazing team that strive to create meaningful environmental change in our region. She has a keen interest in aquatic environments and water quality and how we can all work towards protecting and improving our watersheds. Roxanne holds a B.Sc in Biology from the University of New Brunswick, a diploma in Environmental Technology from the New Brunswick Community College, and is about to start her MSc in Environmental Management. Since completing her education, she has worked on many projects throughout Southern New Brunswick focusing on watershed issues and management and their implication on aquatic environments, cyanobacteria research and monitoring, and public education and outreach.
Shauna Sands is the Conservation Coordinator at ACAP Saint John. She was born and raised in Saint John and has always been passionate about marine species and their environment. She holds a B.Sc from the University of New Brunswick Saint John (majoring in Marine Biology) and also a diploma in Wildlife Conservation Technology from Holland College. Her interests include topics related to wildlife management and conservation, marine mammals (particularly cetaceans), and educational outreach.
Feel free to send questions in advance to info@sustainablesaintjohn.ca
Watch Now!